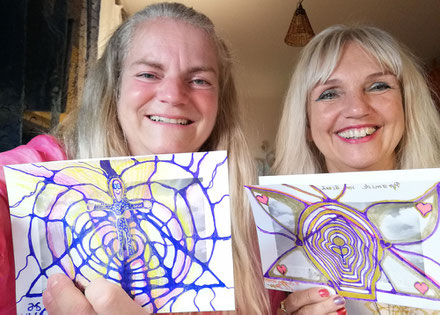 "Before we started our first journey (September to November 2021), I thought to myself, oh yes, the sounding of Claudia sounds nice, but do I want to go all the way? Then I realised more and more how sounding was liberating. Meditating in a new way was also surprising for me, the way Claudia did it. And then dancing brought me a lot of ease.

Claudia never liked neurographica before. She had resistance to round off. Now she was on fire for rounding off and the results.

Our journey "GRACE & SPLENDOR" brought so much joy and development to the participants and to Claudia Berger and me and a deep dive into grace and splendor that we want to start again in the New Year:

🌹 7 weeks for our primal femininity
🌹 7 weeks for our chakras
🌹 7 weeks for creativity in the form of dance, sound, meditation, neuroart and much more".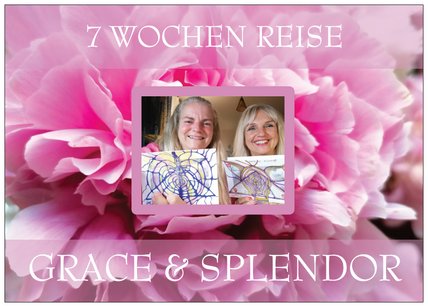 Purification and strengthening of our 7 chakras through sounding, meditating connected with the 7 chakras of the earth, dancing and neurographical drawing of the chakra connection with the seven wonders of the ancient world embedded in the energy of the divine feminine with

Heidi Sieber and Claudia Berger

Feel into your feminine energy of the DIVINE MOTHER,

The feminine power and blessing of MARIA MAGDALENA,

Your creative VENUS POWER for all that is beautiful and magnificent,

the love and devotion to your divine potential of ISIS

connected with your own HEARTPRESENCE and WISDOM in the here and now, inspiring you every moment to express and create anew from the Source.

A 7 week journey where you come closer to the divine feminine. Feel and begin to integrate the grace, goodness, purity and magnificence of the divine feminine.
 
Your divine chakras will be cleansed and reactivated. On 7 evenings and in a group over 7 weeks we look at our 7 chakras, the ones we are most familiar with. Our energy wheels that are controlled from above.

We receive a lot of important information about the chakras. Then we purify them by sounding and dancing our Inner Divine Self from our origin and become SELF aware. We also receive the energy of the 7 Chakras of the Earth in meditation.
photo credit and info about the 7 wonders of  the ancient world

We neurographically (creative transformation method) sense the connection to the 7 places of power "Wonders of the Ancient World", which each stand for 1 chakra. These power places, buildings and statues are energetic portals. They will strengthen us in our chakras and thus in our self-empowerment. On the 8th date we will harmoniously unite all 7 drawings. You will be instructed in the method beforehand, you do not need any previous knowledge.

We will start with our root chakra as in shamanic practice. As we live here on Mother Earth, grounding is very important for us humans so that we don't take off.

Claudia is responsible for the information, sounding, meditating and dancing = SPLENDOR
Heidi is responsible for the neurographica of the places of power "7 wonders of the ancient world" with GRACE and mindfulness.

Claudia and Heidi have known each other for over 15 years. This online seminar is their second one together after many attempts. Claudia is a healer and dancer, Heidi an Art & Mission Mentor. We are united by the fact that we are both very connected to the energy of Mary, Venus and Magdalene and have been incarnated together several times on Venus.
---
"My new femininity wants to emerge like a vessel. The intuitive wants to be heard and felt more strongly. I thank you for the accompaniment and new impulses in the last weeks." Jutta

"The work with the 7 chakras touched me very much and the dancing with you dear Claudia, where I felt a lot of lightness. Depth was an important word for the 8 week journey with Heidi and Claudia and new for me. Depth not because it pulls down, but in the lifting and floating of meditation a depth that generates courage from the heart. Through you, dear Heidi, I also got to know neurographica in a depth."

"Full of beauty what you have worked out; may the power of unity in you grow and flourish - and since we are women; especially of course the femininity. It was a pleasure to be there - thank you🙏🏻🌸" Tanja
---
FREE English workshop about the Lion's Gate on August 08, 2021 and the pyramid of Giza, one of the topics in our workshop journey GRACE & SPLENDOR:
FREE English workshop
Please print out this template for the workshop
Pyramid of Giza.pdf
Adobe Acrobat Dokument
120.6 KB
---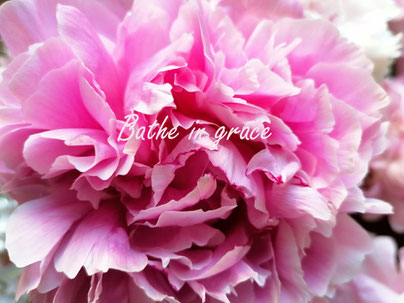 A new programme is going to start with a minimum of 4 participants.

If you cannot be there live, there will of course be a recording. Accompaniment in a group, e.g. WhatsApp.
---
777 € sponsorship contribution - 1. Whoever would like to support the energy field of GRACE & SPLENDOR - the divine feminine energy for the highest good of all - you are more than welcome to do that.  2. This also makes the normal contributions possible so that many people can enjoy the journey.
 444 € normal contribution
 555 € if paid in 3 instalments of 185 € each
 If you bring a 2nd participant, you pay 222 €. If you bring a 3rd participant, you pay 0 €.

The compensation includes 19% VAT, if due. Heidi and Claudia will issue separate invoices. Cancellation up to 4 weeks before the start is free of charge, 3 weeks before the start 50% of the costs of the programme will be refunded, from 2 weeks before the start no refund.
---
Please have ready for the appointments with Heidi:
Set of coloured pencils and coloured felt-tip pens fine, medium and thick (e.g. permanent Edding, Staedler, Stabilo), sharpener, A4 paper, larger cardboard, e.g. back of an A3 pad, camera on PC/laptop, mobile phone for photos or camera.
---
Self-responsible participation:
My courses and seminars are NOT therapeutic measures, but intensive self-experiences. With your registration you declare yourself willing and able to deal with your experiences in the seminar/recording on your own responsibility. It does not replace diagnosis or treatment by a doctor or alternative practitioner or, in the case of pre-existing mental illnesses, by a psychologist. As a participant you assure that you know where you can turn to and will do so if necessary.