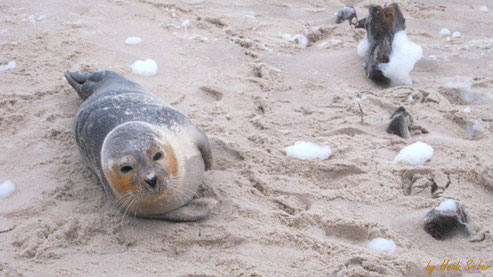 Sein Blick traf mich mitten in meine Seele
His eyes met me in the middle of my soul
"Vor ein paar Tagen war in mir der Wunsch, bald mal eine Robbe von Nahem sehen zu können............. heute wollte ich gar nicht raus, weil Sturmböen angekündigt waren...............was soll's, ich ging dennoch raus, testete und es war kaum windig....... 300 m von der Promenade am Strand da lag sie....... diese kleine Robbe, die mich gewinnend immer wieder anlächelte, so hatte ich das Gefühl.........ich möchte gar nicht erzählen, welche Anstrengungen unternommen wurden, um Hilfe zu holen..........
"A few days ago there was a desire to see a seal from close up soon..... Today I did not want to go out, because storm was announced...... Nevertheless, I went outside, tested the weather and there was hardly any wind...... 300 meters distant from the promenade I saw him..........this little seal lying at the beach with its engaging smile - I  perceived it this way....... I don't want to tell, what efforts have been made to get help........
Robby, der Seehund, guckte mich mit so anmutigen, liebevollen Augen an, die mein Herz berührten
.....Es berührte mich einfach, wie die Augen von Robby mich immer wieder anguckten.......... Im Aquarium sagten sie, er muss sich ausruhen von der unruhigen See.............und seine Mama würde ihn wieder abholen, wenn die Flut kommt........ Morgen soll Sturm kommen.....Eine Sylterin sagte, wenn er unter der Brandung durchtauchen kann, dann schafft er es auch wieder zu den Seehundbänken auf der anderen Seite..............

....It just touched me how Robby's eyes looked at me repeatedly........ In the aquarium they said he must rest from the rough sea.....and his mama might pick him up as soon as the high tide will come....... Tomorrow will be the first storm...... a Sylt Island woman said that if he can dive underneath the waves, he will make it again to the seal banks on the other side...............
Robby, the seal, looked at me with such graceful, lovely eyes touching my heart

........Ich redete ihm gut zu ........sagte ihm innerlich, auch wenn es dein Körper nicht schaffen sollte, ist das nicht das Ende....... deine Seele wird weiterleben. Sein Blick daraufhin jenseits aller Worte mitten in meine Seele - ist tief eingesunken in mein Herz und dort verankert seitdem."
After some calming worlds ...........I told him inwardly: Even if your body shouldn't make it, it is not the end........, your soul will go on living. His eyes thereupon reached the middle of my soul beyond all words - the feeling was sinking deeply in my heart and is anchored there since then."
Im Januar 2015 - "Dieses Bild durfte ich aufnehmen auf Sylt im Winter - Magie des Nordens ist allgegenwärtig auf dieser Insel und gibt mir so viel Inspiration und Kraft, mich zu entwicklen und zu verwandeln."
In January 2015 - "I was so very happy to capture this picture at the beach of the Northernmost island of Germany - Sylt - in the North Sea in winter- Magic of the North is omnipresent on this island and gives me so much inspiration and power to evolve and transmute."
Comments on FineArtAmerica:
"Wonderful close up of that face!", "Nice capture!", "What a sweet and great capture!!", "What a sweet little fellow ! Great photo !", "So cute! excellent!", "Love this image!"
---
---