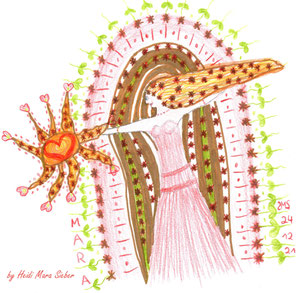 Name of origin logo artwork for Mara
January 24, 2022: I want to tell this story of my more than 50 days (since November 30th, 2022) with a frozen heart in the desert, because I think that many people are feeling this way right now. For different reasons, but I feel people's hearts frozen by panic and fear when I walk through the streets in Munich.

What does a frozen heart mean? You are unable to think clearly. All connection to intuition, your soul, your Higher Self and God are interrupted. Panic and fear constrict the heart. I have asked others for advice and have been like a swaying ship, one says this, another says that and I sail from one opinion to another, oblivious to my own. A frightening state.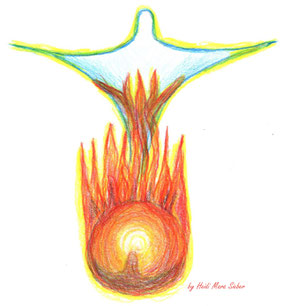 Name of origin logo artwork for the magical fire pearl - Solve

How did I find my way out of it?


 In the more than 50 days I prayed a lot and turned to God, although I could not perceive the answers. The essence of God helped me through a lot. I wouldn't have made it through otherwise. And of course I had companions by my side.
 It was associated with post-birth trauma. After the birth I was in hospital for 6 weeks with a middle ear infection and the doctors thought I had something wrong with my head because I kept tossing my head back and forth. Without a mummy with the feeling that it would never get better because it hurt so much. Fear of dying was there too. I finally saw these scenes on the 38th day of the breakdown with various physical symptoms. And finally this trauma could be released with God's help.
 It was also still connected to Atlantis, where primal trust and connection to God had been affected since then.
 A deceased girl had been in my aura for years and transferred her many fears to me. She was picked up by Jesus and Mary and was allowed to continue her path outside of me.
  ... and the hammer was that during that time I reacted to hot and cold and sweet, as I thought on the upper incisor. I then made a dentist appointment and only found out 2 days beforehand that the pain, which was by now also present when biting, was coming from the small tooth next to it, the 22. The dentist found out that it was dead. He is on the bladder-kidney meridian. It could well be that he triggered the whole thing.
 Quite different remedies had hardly changed the symptoms, but each step was a way to the solution. Now Artemisia Annua, the annual mugwort, helps me a lot as a mother tincture, which supports a lot of physical symptoms that they can resolve
 the change in my way of living and working

So it is worthwhile to turn to God, to be mindful of what one encounters and to dive inwards, not to remain stuck in the outside.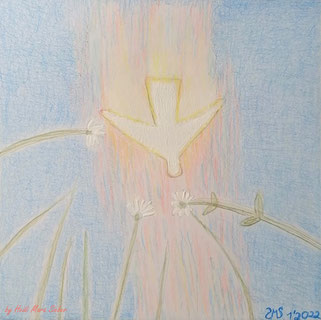 Name of origin logo artwork "Who carries love on earth - Chamuel"

At the beginning of the process there was a breakdown.
How did the breakdown come about?

Everything was too much for me. I had a very masculine way of working in the last 2 years of my self-employment and even before that. And this as Ma-ra, my original name. Ma is the original form of Maria, the one who receives, the one who rests in herself. I was everything else but that. Running after the sausage instead of being a magnet. Driven by fear and lack. Just what the ego knows from experience ...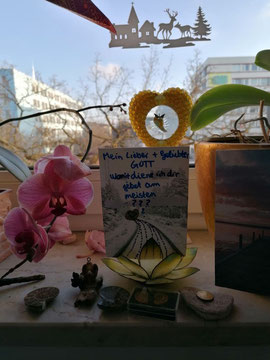 What new behaviours am I allowed to live?

I designed a postcard with the mantra:
"My dear and beloved God, what do I serve you with most now?"

I am very fulfilled by this mantra. Answers are finally coming, not from the ego, but from the higher guidance of what I can serve God with. I can only walk my path with God, no longer without Him. Not with the God of the church, but with my dear and beloved God - the Creator (impulses and enlivenment through power), the Father (content) and the Mother (being). I now work with fields of manifestation in the essence of God. I may also take myself back again and again when I am too much in action again and call my motto for the year to my consciousness

"I rest gently in God and in my heart" and receive as a magnet.

I am looking forward to your comments on how you deal with fear and panic and how your relationship with God is.

Kind regards Heidi Mara

P.S. If you would like to know more about the path with God and about the origin name logo artwork, please feel free to write to me.