---
---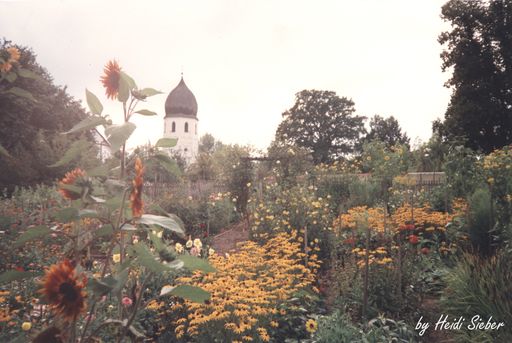 Ich besucht die Fraueninsel im Chiemsee. Diese Insel hat eine speziell weibliche Kraft. Es gibt ein Frauenkloster auf dieser Insel seit dem Jahr 800. Es ist eine kleine Insel - in 15 Minuten umrundet.....Auf dem Weg um die Insel trafen wir ein wunderschönes Mädchen. Sie hatte einen Kreis mit Rosenblättern kreiert und fragte uns "Möchtest du Glück`?" Ich sagte ja und sie lud mich ein, mich in den Kreis zu stellen, was ich tat.....Dann streute sie rosa Blütenblätter über meinen Kopf....Ich fühlte mich in diesem Kreis wirklich, als ob ich mit Glück vermählt wurde an diesem speziellen Tag der Sommersonnenwende 2014....So, nun wünsche ich euch allen eine Hochzeit mit dem Glück - kreiere deinen eigenen Kreis mit Rosenblütenblättern und heirate das GLÜCK.
I went to an island - the Fraueninsel = women's island in the Bavarian (Southern Germany) lake Chiemsee . This island has a special female power. There is based a women-monastery on this island since the year 800. It's a tiny island you can surround in 15 minutes walk...........On the track around the island we met a beautiful girl. She had created a circle of rose petals and asked us "YOU WANT HAPPINESS?" I said yes and she invited me to stand in the circle and so I did............Then she spread rose petals on my head........I really felt like I got married to happiness in this circle on this special day of summer solstice 2014.......So, I wish everyone a marriage to happiness - create your own circle of rose petals and get married - to HAPPINESS!
---
Sich beschützt & inspiriert fühlend
Feeling protected and inspired
---
Als ob sie sich selbst mit Flügeln in den Händen hält oder hinter sich steht - der kleine Engel fühlt sich beschützt von der großen Lady und die große Lady fühlt sich inspiriert von dem kleinen Engel.....
Ein Kommentar auf FineArtAmerica: "Ein Tribut an die Stärke der Frauen auf der ganzen Welt, Heidi!"
Diese Statue befindet sich auf einer Brücke, die zum "Deutschen Museum" führt, ein großes technisches Museum in München.
As if she is holding herself with wings in her hand or standing behind herself - the little angel feeling protected by the tall lady and the tall lady feeling inspired by the little angel...........
A comment on FineArtAmerica/Pixels: "A tribute to the strength of women around the world, Heidi!"
This statue you will find on a bridge heading towards the "Deutsches Museum", a big technical museum in Munich.
---
Michael....Lady.....Vollmond
Michael...Lady...Full Moon
---
Kirche St. Michael............
Vollmond über der Kirche von unserer Lieben Frau ........
Eine magische Nacht in München!
Church St. Michael............
full moon above the church of our Lovely Lady ........
A magical night in Munich!
---
---
"Tauche ein in mich - das Opallicht ......Das obere des Opals brach ab und das Licht scheint durch seitdem....was für eine großartige Symbolik....wenn du dich entscheidest, dein Herz zu öffnen und entscheidest zu leben, zu denken, zu agieren aus dem Grunde des Herzens auf einer tägliche Basis und zu arbeiten an den Blockaden auf dass sie transformiert werden .....die Illusion vergeht... du fühlst mehr und mehr, dass dein Inneres strahlt wie ein Opal - strahlend und leuchtend....
DU FÜHLST DICH LEBENDIG....DU BIST VERLIEBT INS LEBEN."
"Dive into me - the opal light......The top of the opal broke off and the light shines through since then....what a great symbolism.....If you decide to open your heart and decide living, thinking, acting from the bottom of your heart on a daily basis and working on the blockades to be transformed ........... the illusion vanishes ..... you feel more and more that your inside shines like this opal - radiant and bright.....
YOU FEEL ALIVE....YOU ARE IN LOVE WITH LIFE."
---
---
Am Deininger Weiher in Bayern vermischt sich die Farbe des Moorsees mit der Sonne in diesem goldenen Wasserfall - waoh - ......einen Wasserfall anzusehen ist sehr heilsam, das Wasser fließt und fließt und fließt .....und die goldene Farbe ist die höchste Farbe - sie verbindet dich mit deinem inneren Kern.
At the Deininger pond in Bavaria/ Germany the color of the moor pond merges with the sun into this golden waterfall - wow -........... to watch a waterfall is very healing, the water flows and flows and flows.............. and the color gold is the highest color - it connects you with your inner core.
---
---
Eine Pfingstrose für meinen Geburtstag.....der Geruch füllte den ganzen Raum mit einer wunderbaren Essenz....die erstaunliche Schönheit dieser Rose wird für immer bleiben auf diesem Foto....der Geruch ist immer noch in meinem Gedächtnis.
A peony for my birthday....The smell filled the whole room with a beautiful essence....The amazing beauty of this rose will last forever on this photograph....The smell is still there in my memory.
---
---
 Comments on FineArtAmerica/Pixels:
"Wonderful capture. Looks inviting", "Love it!", "Wonderful capture. Looks inviting"

"Wenn du im Urlaub bist - atme Urlaubsgefühl ein, fülle dich mit dem Gefühl jeden Tag. Du atmest es ein mit dem Gedanken "waoh Urlaub" und atmest erleichtert aus.
Wenn du vom Urlaub zurück bist, wirst du nicht sagen "Mein Urlaub ist zu kurz gewesen" - du bist sehr mit Urlaubsgefühl gefüllt und du kannst dieses Gefühl jederzeit abrufen während der Arbeit, indem du das Gefühl während der Ferien einatmest und erleichtert ausatmest ................. PROBIER'S AUS"
Dieses Foto wurde aufgenommen auf der Fraueninsel im Chiemsee.
"When you are on holiday - inhale holiday feeling, fill yourself with that feeling every day. You breath it in with the thought "wow holiday" and breath out feeling relieved.
When you are back from holiday you won't say "My holiday was too short" - you are very much filled with holiday feeling and you can retrieve this feeling at any time during work by breathing in the feeling during holiday and breathing out relieved.................TRY IT"
This photograph was taken on the "Fraueninsel" (women's island) in the Chiemsee-lake in Bavaria, Southern Germany.
---