Unfolding Power LIGHTHOUSES
An adventurous journey into your vision / your universe / your heart / your essence
Empower yourself through NEW LEADERSHIP!
Would I have thought that only a few months ago? No.
The first English LIGHTHOUSE journey will start soon!
A year ago I was still afraid to speak English, but then I dared to trust myself. Took English lessons with the lovely Stephanie Davies and I am growing more and more into the language. Sometimes the
pronunciation is still funny, the beer and the bear thing is something. If words are missing I look them up or paraphrase them.
I break a chain and dive deep into trust - The time has come:
TO CALL THE LIGHTHOUSES TOGETHER
who really want to commit to dedicate their lives to be a LIGHTHOUSE
for themselves and for the world, to create
ONE LOVE, ONE LIGHT, ONE HEART, ONE COMMUNION
to serve the world, to advance humanity.
---
"The universe of the essence is always growing, unfolding, letting go, reseting, recalibrating, receiving, playing, it is curious......  Leaders of the New World are those essences." Heidi Sieber
---
A life changing - 12 week journey - into your ESSENCE.
The 1st LIGHTHOUSE group in English.
Are you a LIGHTHOUSE in these uncertain times?
 What happens when you are not? What do you focus on?
 Have you shone much for others in your life so far?

 Are you up for an adventure,
 that could eclipse everything
that you've perceived of yourself up to now?

Discover and feel your essence.
 EMPOWER YOURSELF TO LIVE YOUR ESSENCE!
EMPOWER YOURSELF INTO NEW LEADERSHIP!

Leaders are those who don't pretend to know everything.
Leaders remain humble and are curious.
Leaders reveal their essence and let their power unfold from within.

 Discover who you are and what your calling is in this life.
 Remind yourself of your gifts and talents based on your soul's plan.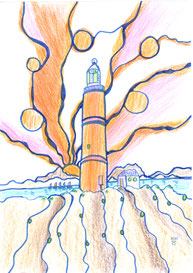 DISCOVER AND FEEL THE VISION/ESSENCE OF YOURSELF, JUST FOR YOURSELF,  AS MOTIVATION FOR YOUR LIFE! NOW IT IS TIME FOR YOU TO SHINE, TO BECOME A LIGHTHOUSE, TO FEEL THE LIGHTHOUSE WITHIN YOU! - SHINE FIRST ONLY FOR YOURSELF AND THEN THE LIGHT WILL EMENATE TO OTHERS! IT WILL QUICKLY LIGHT UP YOUR SURROUNDINGS AS WELL. YOU WILL BE PERCEIVED AND SEEN DIFFERENTLY, THE WAY YOU SHOULD BE: IN YOUR ESSENCE.

Do you have the heart, the courage, the confidence to shine as a LIGHTHOUSE in these times, to serve as a center of calmness ...? - To be a LIGHTHOUSE yourself? Discover the LIGHTHOUSE in you! Let us be LIGHTHOUSES together ... and make sure that the LIGHTHOUSES ignite like a million candles!

A side effect is: your radiance will change your entire life - you will no longer have to sell yourself, but will simply be allowed to live yourself and be seen, or if that is not an issue for you, you will perceive yourself in a new way  with life fulfilment on all levels and will attract other people into your life. When you are filled with your essence, you will give out of abundance, not out of lack, without the need to achieve something.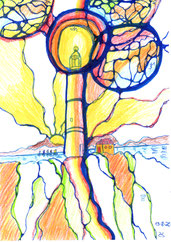 FROM TRAUMA TO TRUE NATURE AND EMPOWERMENT
FROM TRAUMA TO TRUE NATURE this is Andrea Kurth's strength
and EMPOWERMENT Heidi Sieber's strength.
These two ladies will accompany the LIGHTHOUSE group together.
Heidi is the initiator of the project and supports with a sacred space and grace, with transformation and empowerment so that the lotus of essence opens and becomes tangible. She also works with the participant's soul essences, original name and gene keys etc. and supports the vision essences within the bigger picture.
Heidi Sieber: "Since the summer of 2020, I have continuously followed this path myself in international groups. With Antonia Daniek, who teaches her own content and content from Peter König, among others, and in programmes with Matthew Liam Gardner. This changed my life completely. I was able to powerfully dive into the vision/essence of myself and through this I was able to approach my corporate vision from my essence. This was incredibly enriching. I did vision work before, 15 years ago, but this time it is carried out on a very different level: out of the essence. Now I get to help others get there too!"
Andrea Kurth: "Embodying a broader vision of who you are might be touching and surfacing those aspects that are too fragile to provide a solid ground. I am delighted to complement the program with individual sessions for a deep integration in your body, your emotions and your mind. My journey as an energy healer, Yin Yoga teacher and body oriented psychotherapist has consequently guided me into unlocking the real potential of trauma. It is my deepest passion to bring you in touch with your true nature."
Andrea took part in the 1st LIGHTHOUSE group from Sept to Dec 2020.
Join us over the 12 weeks and let us help you become a real LEADER!
---
---
Let us awaken the LIGHTHOUSES in us through the group's synergy and our essence-vision-feelings.  Through this the visions unfold!
"Why is it important to feel your own personal vision?
It is important because the vision for your company develops from it as a tangible guiding star.

This HIGHEST PERSONAL VISION of yourself is what I call VISION ESSENCE 
which is pure happiness
which reflects your core and the essence of your Higher Self
it is a feeling that has always helped you find yourself again, a feeling of life. For me it is joy.
there are words that have always touched you, that trigger a deep feeling of happiness and that add to your feeling of life.
 ....
there are different models to get closer to your vision essence, e.g. the soul essences from this life and from the beginning of time (extremely helpful for finding your vocation), the gene keys (opening the hidden higher destiny in your DNA) and others.
For me, at its core, the vision essence is: I am a miracle, which I duly give dignity and thus value to, deserving of the miracle. When I feel this it is pure happiness. I am allowed to be happy and that fills me with great joy! I implement this vision essence in the same way in others - the human being and everything that is.

My Neurographica model: My statue of liberty dances with the lighthouse
The vision path for your life and your business needs the guiding star of your vision essence to authentically find the way to people, be it for business relationships or authentic couple relationships and friends.
My vocation is to work with visions & vision essences and how art can elevate them. I have been combining art with heart and consciousness for 27 years. Countless art projects have been created, especially in the field of vision. My new vocation project takes up my previously practised vision art for companies and individuals and brings it to a
new level of feeling - the felt vision of yourself
and in the next step of your company
 

gives a completely different successful foundation for your personal and vocational life. You automatically pull your clients into your heart level when you tell them about your vision.

you will learn a new form of marketing that comes from the commitment to being and not from doing. It is not fixated on numbers and results, but on the fullness of your universe and being your essence and approaching people from that.

If you perceive your inner universe as fullness, then fullness will follow in time. This is the law of attraction. Fullness on all levels. This is the feeling of life!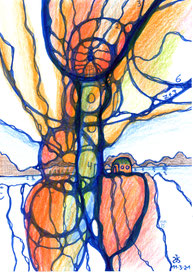 *** Feel and discover your vision essence as the guiding star for your life and for the vision of your vocation. When the vision essence guides, everything can develop from it and then there is happiness and flow. ***

The 10 week journey "LIGHTHOUSE~LEADERS" is an

ALL ENCOMPASSING ARTWORK
  in which you discover the highest vision of yourself:
your universe, your treasure, what makes you tick and what blocks you
channelling how you can best serve-> yourself, humanity, the bigger picture
from authentic human marketing and
abundance on all levels.
Would you like to embark on this adventure? Then carry on reading.
---
Appreciative compensation
We are learning new forms of pricing, which start with the registration: a normal fee, a reduced fee and a sponsor fee. There is also the option to sponsor someone who would like to attend. In that case you would pay their normal fee or the difference from the reduced fee. If you choose to pay the reduced fee, you will need to help to find a sponsor to cover the difference - self-responsibility and enormous growth is encouraged. Of course the money can also be paid back or you can do a talent swap. In general, you make one payment at the beginning and one at the end of the 10 weeks.  Feel into your heart for what fits. It may well be that your business has changed so much after the 10 weeks that it takes off through the roof and you feel the need to give back much more. The most important thing is that you are burning to be here and that you want to grow.
Normal contribution: = 1.449 €

Sponsor contribution: 

> 1.449 €


Higher prices apply to entrepreneurs with higher income.
Prices include VAT, if due. Payment in instalments is possible. Cancellation free of charge up to 4 weeks before the start, 3 weeks before 50% will be refunded, from 2 weeks before no refund.
Treasure chest:
Exclusive small group of up to 12 participants. We use the synergy of the Sacred Vision Space.
We will walk the path to your essence, your inner universe, your soul plan and your vision for your life/work over 12 weeks.
5 live Zoom sessions of 2 hours online each for feedback and assignments. There will be beautiful tasks that will lead you further into yourself and your lighthouse/vision/essence being. In the beginning we will turn to what we want to let go of in our life and what we want to strengthen. Bit by bit we will come to know our essence more and more. The vision for your life and work will ultimately follow from this. Let yourself be surprised!
Videos, posts and feedback on the tasks will take place in a private channel which is linked to a group on Telegram where everyone can communicate.
5 live sessions or recordings with Heidi's models for Neurographica - a creative transformation technique - I am a qualified trainer. These sessions will deepen and integrate the tasks and will culminate in an essence-wonder collage. We will do an introduction to Neurographica before drawing the first model.
An individual 2 hour session with Heidi to find your soul essences for this life and from the beginning of time (important for the soul plan). You will be introduced to the Gene Keys and you may start with your self-exploration of them. They are connected to your life's work, radiance, purpose and evolution. The Gene Keys open the hidden higher purpose in our DNA.
Your original name tells you a lot about your origin, your task in life etc.
An individual 2 hour session with Heidi with a focus on your essence and vision.
Extra video impulses and manifestation journey audios from me.
You are welcome to incorporate the content you discovered in this group into your own work afterwards. The only exception is the Neurographica for which you need the Neurographica specialist diploma. If you have that, you are also welcome to incorporate my models into your work or alter them as you need.
We will learn new forms of marketing and pricing.
3 individual 1 hour sessions with Andrea about body oriented trauma therapy. From time to time she will also join us in the Zoom/creative calls.
METHODS WE USE:
VISION AND ESSENCE WORK - Our own methods and work according to Antonia Daniek, who teaches content from Peter König, among others, and work from "The vessel" and "The mentorship" by Matthew Liam Gardner and much more. Thank you for allowing me to pass this on!
NEUROGRAPHICA - Own models for the integration of the tasks and the essences.
CONSCIOUSNESS WORK - 27 years of my own training, dozens of courses attended and passed on to others.
READING IN THE DIVINE FIELD - Qualified trainer.
NEW MARKETING METHODS (Matthew Liam Gardner) and money models (CU money)
HOLY VISION SPACE
ANDREA AND I share the same Genius Gene Keys but inverted.
ANDREA has a practice for holistic psychotherapy focussing on body-oriented trauma and process work. She is also a PsychoEnergetics Practitioner as well as a Brennan Healing Science Practitioner®.
WE WILL START WITH THE JOURNEY, WHEN AT LEAST 4 PEOPLE HAVE COME TOGETHER WHO ARE ON FIRE TO EMBARK ON THIS VESSEL

If you can't be there live, you can watch the recordings. We do recommend attending live though as the interaction is important.

Total time (Zooms dates, creative dates and tasks) per week, without interaction in the Telegram group, approx. 3-4 hours. More time is invested at the beginning than the end of the course.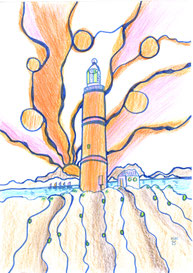 We would love to get a taste of your essence in a 30-minute conversation with you.

Your essence and being a LIGHTHOUSE will enrich your life and the lives of many!
We look forward to the journey with you and the group!

Yours,
Heidi Sieber and Andrea Kurth
Self-responsible participation:
My courses and seminars are NOT therapeutic measures, but intensive self-experiences. With your registration you declare yourself willing and able to deal with your experiences in the seminar/recording on your own responsibility. It does not replace diagnosis or treatment by a doctor or alternative practitioner or, in the case of pre-existing mental illnesses, by a psychologist. As a participant you assure that you know where you can turn to and will do so if necessary.